The release date for Sweet Revenge is Wednesday, June 13th! Woo-Hoo! :) Sweet Revenge is a regency suspense, and it will be published under the English Tea Rose Line at The Wild Rose Press. Below is the blurb and the cover!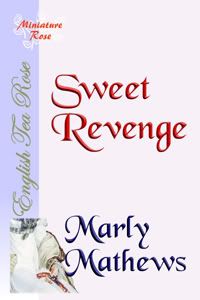 Sweet Revenge by Marly Mathews
English Tea Miniature Rose
Lady Carys Richardson is a woman set on a mission. She's convinced her brother, Charles was murdered during his service in the Napoleonic wars. On her path to vengeance, she falls in love with the Duke of Penrose, Thomas Williams. Thomas was her brother's commanding officer in the Navy. Her investigation leads her to point the accusatory finger in Thomas's direction and her world begins to unravel.
Lord Thomas Williams is a duke with wealth and power. He also is a man that knows too much without having enough evidence. When he finds out that Carys believes him to be the murderer, his heart is broken. But he hasn't lost his faith in Carys nor can he stop loving her.
When Carys finally realizes her horrendous mistake, will it be too late to right the wrongs of the past and bring the true killer to justice?