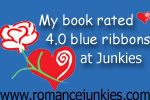 JT at Romance Junkies reviewed The Witch and the Wolf! Here's a snippet of her review and a link to read the review in its entirety.
"In setting the tale during the perilous era of the late 1700s, Marly Mathews interweaves non stop suspense and action into her captivating historical romance."

~JT, Romance Junkies

Here's the link to the full review!
~Marly